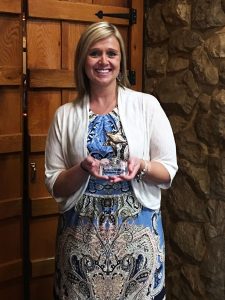 Amy Groome, a Title I teacher at McNinch Primary School, has been named the Rita Takach Reading Teacher of the Year for Marshall County Schools for her commitment to literacy.
Groome believes fluency is the key to reading success.  "When children are given time to practice and become more fluent, they become more confident and interested in reading," Groome explained. She varies her instruction to provide enough challenge and support for each of her students to build a positive attitude toward reading.
Celebrating successes encourages Groome's students to reach different reading goals.  "Reading becomes enjoyable, not work," said Groome.  She has been teaching for 14 years.
Each year the Marshall County Reading Council accepts nominations for the award named in honor of Rita Takach who was a dedicated Title I Reading Specialist with Marshall County Schools for more than 30 years.
Nominees represent certified K-12 teachers who have made outstanding contributions to helping students become proficient readers and motivating them to become lifelong learners.
The other two Marshall County finalists were John Marshall High School English teacher Andrea Burke and Central Elementary School 5th grade teacher Jenny Finley.
Groome will represent Marshall County in November at the West Virginia Reading Teacher of the Year conference where she is eligible to win the state award.