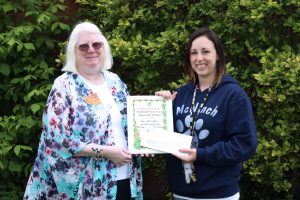 McNinch Primary School teacher Ashley McCulley and her 2nd grade students received Honorable Mention for the National Garden Club's Frightened Frog Award.
The accolade was created to be given to youth based on the book "The Frightened Frog," co-authored by Brenda Moore and Jean Ohlmann.
Moundsville Garden Club members visited McNinch Primary and worked with the students from McCulley's class. They read the book and talked about ideas of how to save the frog population. The students then made toad houses and talked about ways to protect amphibians.
McCulley's class won $25, as did the Moundsville Garden Club.