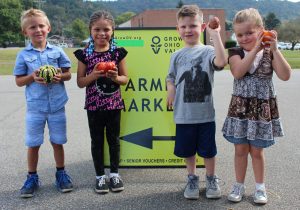 The WVU Extension Service Family Nutrition Program has supplemented the nutritional needs of more than 3,100 children in West Virginia through a "Pop-Up Farmer's Market" program funded by the Eye Foundation of America.
The program allows children to receive vouchers to spend on fresh, local fruits and vegetables at a farmer's market that has been brought to a childcare center, school or community event.
On Tuesday, McNinch Primary School hosted a "Pop-Up Farmer's Market."  Thanks to the grant, all 403 students received $3.00 to spend at the Grow Ohio Valley's Mobile Farmer's Market.  Students took the fresh fruits and vegetables home to share with their families.
"In most West Virginia counties, more than 50% of school children participate in the USDA's Supplemental Nutrition Assistance Program (SNAP)," said WVU Extension Specialist Kristin McCartney.  "With more than 80% of the state's school districts participating in farm-to-school activities, we're able to quickly make a difference."
The program has been in a pilot phase for a couple of years, but recently went statewide through a grant provided by, and in partnership with, Morgantown, West Virginia based Eye Foundation of America and its president and founder Dr. V.K. Raju.
"West Virginia has the highest rate of diabetes in the nation," Dr. Raju said. "Nearly 30% of people with diabetes are at risk for vision-threatening diabetic retinopathy. Proper nutrition for our children is the key to breaking this terrible cycle."