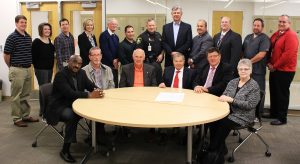 On Wednesday members of the Marshall County Commission as well as the mayors of the cities of Marshall County, members of the Legislature along with the Sheriff and local business leaders gathered to sign the proclamation declaring November 13-17, 2017 as American Education Week in Marshall County.
The theme this year is Great Public Schools: A Basic Right and Our Responsibility.  Also attending the signing were members of the Marshall County Board of Education, administrators of Marshall County schools, administrators from John Marshall High School and representatives of the West Virginia Education Association and American Federation of Teachers.
American Education Week spotlights the importance of providing every child in America with a quality public education from kindergarten through college, and the need for everyone to do his or her part in making public schools great.
A short luncheon, prepared by the JM ProStart students, and a brief tour of the John Marshall High School facilities followed the signing.
The text of the proclamation signed follows:
Whereas, public education is the backbone of our democracy, providing young people with the tools they need to maintain our nation's precious values of freedom, civility and equality; and
Whereas, by equipping young Americans with both practical skill and  broader intellectual abilities, schools give them hope for, and access to a productive future; and
Whereas, public education employees, be they educators, substitute educators, higher education faculty and staff, custodians, teachers, bus drivers, clerical workers, food service workers, security guards, technical employees, or librarians, work tirelessly to serve our children and communities with care and professionalism; and
Whereas, public schools are the foundations of neighborhoods and communities, bringing together adults, and children, educators and volunteers, business leaders and elected officials in a common purpose,
Therefore, be it further resolved, that we proclaim November 13-17, 2017 as the 96th annual observance of American Education Week.  Proclaimed this 8th day of November 2017.