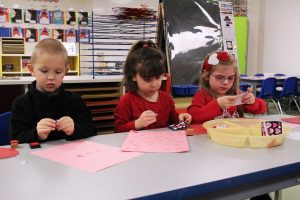 McNinch Primary School students showed their appreciation for the sacrifices and achievements of United States Veterans by making them Valentine's Day cards.
At the request of McNinch Primary Pre-K teacher Shawna Zervos, each student in the school created a personal hand-crafted card which included a special message designed to put a smile on a Veteran's face on Valentine's Day.  The cards will be given to more than 200 local Veterans through Helping Heroes Inc. in Moundsville.
Valentines for Veterans is a program that began in 1989 at the request of the late advice columnist Ann Landers. She encouraged her readers to take time to honor our nation's Veterans through the creation and distribution of cards on Valentine's Day.
Teachers at McNinch Primary School are committed to continuing the annual program, along with teaching students the importance of showing gratitude to Veterans throughout the year. This experience was also designed to encourage students to give back to their community.