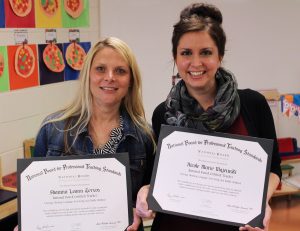 One of the most important factors that ensures a student gets a good education is the quality of the teacher.
An effective teacher can be described in many different ways: caring, respectful and kind, along with being a good listener and communicator.  However, those adjectives only describe a teacher's character.  Skill and knowledge of the subject being taught are also essential.
McNinch Primary School 1st grade teacher Nicole Majewski and Pre-K teacher Shawna Zervos were recently recognized as accomplished educators by the National Board for Professional Teaching Standards. Each earned the distinction of National Board Certification in Early Childhood Literacy. The designation is the most respected professional certification available in K-12 education.
To be considered for the national certification a candidate must have a bachelor's degree, valid state teaching license and three years of classroom experience.  Each teacher must also meet score requirements on a written test, portfolio and classroom performance in order to achieve National Board Certification.
Majewski has been teaching in Marshall County for 8 ½ years. She holds a bachelor's degree in Early Childhood/Elementary Education and is in the process of earning a master's degree from West Virginia University in Reading and Literacy Leadership.
Zervos has been teaching in Marshall County for 25 years. She has an Early Childhood/Elementary Education bachelor's degree and a master's degree in K-12 Reading.
Majewski and Zervos decided to work through the lengthy certification process together. The two first met when Zervos was assigned to be Majewski's professional mentor in 2007. "We were put together by chance," Zervos explained. "We didn't realize at the time what a blessing this pairing would be for us."
As time went by the mentorship morphed into a friendship.  "I have admired Shawna since our first meeting," Majewski said. "We just hit it off. We really motivate each other."
Both say they couldn't have done it without the other. Majewski and Zervos also appreciate the help they received along the way from Marshall County Schools Curriculum Director Woody Yoder. "He was the principal at Center McMechen during our mentoring and was instrumental, the past few years, in securing professional work time from the county in support of our endeavors," said Zervos.
Majewski and Zervos are the first teachers in West Virginia to earn a National Board Certification in Early Childhood Literacy.