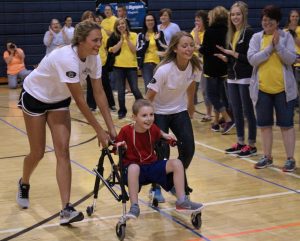 Mother Nature's rain didn't wash the smiles off the faces of the more than 130 student and adult athletes at the 29th annual Marshall County Special Olympics Track and Field event at John Marshall High School.
Because showers were in the forecast, the games were moved inside.  JM Agriculture students Lain Ferrell, Ben Hazlett, Michael Shultz and Austin Norris figured out the layout for the relocation to the school's gymnasium.
170 peer tutors from both high schools, John Marshall and Cameron, assisted the athletes with various track and field events.  Participants also made arts and crafts and had the opportunity to learn about the unique customs of the Delaware Nation, a Native American Tribe.
Everyone received a t-shirt featuring original designs by John Marshall High School students Chris Games and Thomas Luppe.  Lunch was prepared by the JM Pro Start students.