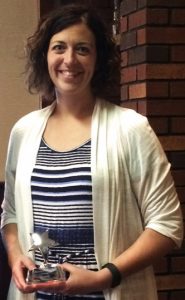 Heather Haught, a first grade teacher at McNinch Primary School, has been named the Rita Takach Reading Teacher of the Year for Marshall County Schools.
Each year the Marshall County Reading Council accepts nominations for the award named in honor of Rita Takach who was a dedicated Title I Reading Specialist with Marshall County Schools for more than 30 years.
Nominees represent certified K-12 teachers who have made outstanding contributions to helping students become proficient readers and motivating them to become lifelong learners.
Haught was chosen because she works with her students daily to build the foundational skills that will help them grow to be successful readers.  She also strives to keep her classroom a positive and safe place so students can perform their best.  Haught's classroom is filled with literacy enriched centers that she constantly changes to meet the needs of individual students.
The other two finalists this year were Center McMechen Elementary School fourth grade teacher Bethani Vilkoski and Hilltop Elementary School third grade teacher Kimberly Wood.