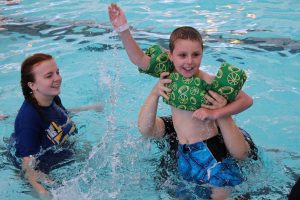 The 29th annual Marshall County Special Olympics Fall Swim Meet was held recently at Four Seasons Pool in Moundsville.
Ninety students from all Marshall County elementary, middle and high schools participated and even a few graduates competed.  More than 90 peer tutors from both high schools, John Marshall and Cameron, assisted teachers and aides during the swimming events.
Marshall County Special Olympics co-coordinator Catherine Folmar is very thankful for all of the support the athletes and the event receive.  "Our administration is fantastic and help out with whatever we need to pull this off.  Knights of the Pythias members also are a big help to the Special Olympics success in Marshall County."
Marshall County Special Olympians will participate in basketball in early winter.