The Marshall County Suzuki Strings Program, under the direction of Janet Sparks, will perform the group's farewell concert on Friday, May 6, 2016 at the John Marshall High School Center for the Performing Arts beginning at 6:00 PM.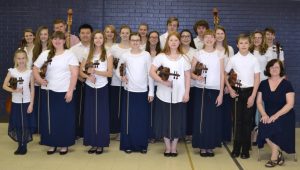 Strings students ages six to eighteen will perform an eclectic group of musical selections.  Ensembles and small groups will play classical, pop, fiddle and folk tunes.  The Marshall County String Orchestra will also perform numerous selections including music from the film "The Hunger Games" and Dust in the Wind" by Kansas.
Sparks started the Suzuki Strings Program of Marshall County in 1986.  Since then the organization has grown from a handful of students to a collection of fine musicians, from kindergartners to seniors in high school, and remains a method rarely taught in a public school system.
In the past 30 years the group has served area communities in many different ways such as holding annual concerts at nursing homes in Marshall and Ohio counties.  The Marshall County Suzuki Strings Association also donated a lighting system and grand piano to the Strand Theatre in Moundsville.
The public is invited to attend the Marshall County Suzuki Strings Program's final concert. There is no charge for admission.