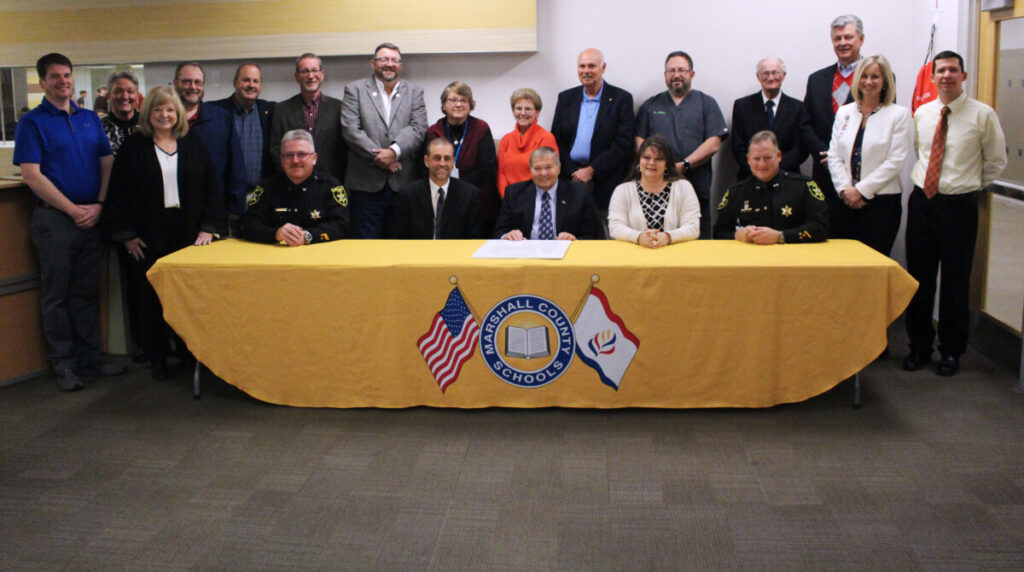 On Thursday, Marshall County Commissioners as well as the mayors from the cities of Marshall County, members of the West Virginia Legislature along with the Sheriff gathered to sign a proclamation declaring November 18-22, 2019 as American Education Week in Marshall County.
Also attending the signing were members of the Marshall County Board of Education, administrators of Marshall County Schools, administrators from John Marshall High School and representatives of the West Virginia Education Association and the American Federation of Teachers (AFT). A luncheon prepared by the JM ProStart students followed the signing.
The theme this year is Great Public Schools: A Basic Right and Our Responsibility. American Education Week spotlights the importance of providing every child in America with a quality public education from Pre-K through college, and the need for everyone to do his or her part in making public schools great.
The first American Education Week was observed from December 4-10, 1921 with the National Education Association (NEA) and the American Legion as the co-sponsors. The following year the U.S. Office of Education joined the weeklong celebration as a supporter. Since then more than a dozen sponsors, including the U.S. Department of American Education and the AFT, have joined the founders for this annual event.
American Education Week is now recognized every year the week prior to the week of Thanksgiving.
The text of the American Education Week Proclamation signed in Marshall County follows:
Whereas, public education is the backbone of our democracy, providing young people with the tools they need to maintain our nation's precious values of freedom, civility and equality; and
Whereas, by equipping young Americans with both practical skill and broader intellectual abilities, schools give them hope for, and access to a productive future; and
Whereas, public education employees, be they educators, substitute educators, higher education faculty and staff, custodians, teachers, bus drivers, clerical workers, food service workers, security guards, technical employees, or librarians, work tirelessly to serve our children and communities with care and professionalism; and
Whereas, public schools are the foundations of neighborhoods and communities, bringing together adults, and children, educators and volunteers, business leaders and elected officials in a common purpose,
Therefore, be it further resolved, that we proclaim November 18-22, 2019 as the 97th annual observance of American Education Week. Proclaimed this 14th day of November 2019.
Caption: Pictured from left seated: Marshall County Chief Deputy Sherriff William Helms,Marshall County Schools Assistant Superintendent Woody Yoder, Benwood Mayor Edward Kuca Jr., Marshall County Schools Superintendent Shelby Haines and Marshall County Sherriff Kevin Cecil. From left standing: Marshall County AFT President Josh Gary, Marshall County Clerk Jan Pest, WV Delegate Lisa Zukoff, Marshall County Assessor Terry McDiffitt, Marshall County Commissioner Scott Varner, McMechen Mayor David Goddard, Moundsville Mayor Phil Remke, Marshall County BOE member Christi Robison, Marshall County BOE member Brenda Coffield, Marshall County Commissioner Mike Ferro, Marshall County BOE member Dr. Duane Miller, Marshall County Schools BOE President John Miller, Marshall County Commissioner John Gruzinskas, JM Principal Cassie Porter and Marshall County Education Association President Matt Mandarino.